Star baptism as a memory of a deceased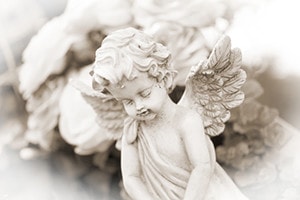 It is one of the hardest things in life to lose a loved one. One feels helpless and regrets that the time spent with the deceased person was far too short. Sometimes death is announced long before and sometimes it happens all of a sudden. All at once the loved one is no longer there. A star baptism can't change that but it can help to remember the wonderful time spend with the loved one. Whenever you look to the sky and see the star, you remember this person and know that this person is now up in heaven watching over you. We would like to see that we can mitigate the mourning of you or the recipient with a star baptism. You have our condolences from the heart!
Gift package
When you buy your guaranteed visible star, you will receive a complete gift package with many extras and background information about your personal star as well as the entry in the international "Starling Star Registry". Each gift package is custom-made. Simply hover over the plus signs to learn more about each component.
Gift Folder
Star Data Sheet
Constellation Information
Instruction Guide
Star Map
Star Certificate
Stellarium Software
Silver Necklace / Compass
Choose your package for a
star baptism
We offer different star baptism packages, which differ mainly by the brightness of the baptized star. In addition, the packages have different configuration possibilities and include different documents and extras. Next, select a package and customize it on the upcoming page according to your wishes.
Your benefits
We are particularly proud of the high print quality of our gift packages. Your documents for the star baptism are printed in a professional printing house and your star is registered in the international star register "Starling Star Registry". Of course, we only baptize stars that are visible to the naked eye.
International
Star Registry
Record of the name
in the international
Starling® Star Registry.
more
Superb
Print Quality
Professional printing on
heavy 250 g/m2 cardboard.
Visible Stars
Only
All stars named
can be seen with the naked eye.